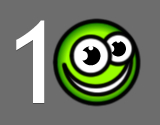 On this day, 10 years ago, I registered the ifroggy.com domain name.
10 years is such a long time but, of course, it just flew by. I couldn't even begin to quantify it. 10 years ago, I was still in high school. I was 15. It's crazy to think about. One of the questions I get asked with some regularity is: how did you come up with the name iFroggy?
10 years ago, there wasn't any $10 a year domain name registration. It was 2 years, $70 at Network Solutions and that was that. $70 is no small amount and that was especially true back then. I didn't necessarily even see myself registering a second domain name. I believe my parents paid for it and I still have the invoice (view). Notice how it says January 3. That's how things worked then. You submitted the registration on January 1. It was completed on January 3.
The site I wanted to originally run was an everything portal or, more like, an as much as I could cover portal. I spent a fair bit of time coming up with names and picking the one I felt was best. I aimed to pick something that was fun, memorable and easy to spell. I still have that list of names and, for the most part, they are not very good. So, I think I lucked out with the name that I selected.
I did the portal thing, in a few iterations. The second iteration, I believe is right around where I began to launch other sites and the iFroggy Network concept began. This can be seen in the May 10, 2000 Archive.org result. On October 12, you can see another design change. What I found, though, was that the idea of a portal like was a bit much for a one man show and that I preferred to focus a site on a particular topic and try to be the best at that.
By Feburary 2001, though I am not sure I knew it yet, I had left the portal idea behind. Eventually, I came to this conclusion and opted to keep the iFroggy name as my banner brand, placing all of my sites under the iFroggy Network.
I don't know what the future holds. I'm not really sure what this year holds. I'm in a state of change right now as I work on clearing my plate some and focusing on fewer ventures, in order to open myself up to other opportunities.
But, I'd like to thank everyone who has helped me to get to this point. My friends who have been continually supportive. The great people who serve or have served as volunteer staff members on my sites. All of the people who visit, subscribe and post on the various sites that I run. Everyone who has spread the word, helped, contributed and believed. Thank you.