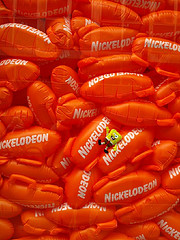 photo
credit:
internets_dairy
When I was growing up, Nickelodeon was probably my favorite TV station. I loved the channel and still do. It's a highly memorable part of my childhood.
When I was at IZEAFest last year, I had an animated and highly enjoyable conversation with Ryan P. Thompson about old Nick shows like "All That," "Doug," "Kenan & Kel," "Rocko's Modern Life" and more. That conversation continued on Twitter where, somehow, I brought up that I had won Nick or Treat.
Nick or Treat was an annual giveaway that Nick would run each Halloween. The prizes would change each year, but in the year that I won, I collected a sleeping bag (that I had for many, many years), a plastic, glow in the dark Dracula model (that I never put together, but also had for many years) and probably a few other assorted things that I forget.
The way that you knew you would win is that they would call you on a certain day (it might have been Halloween) and you were supposed to answer the phone "Nick or Treat!" I'm thinking I was around 8. But, I remember it pretty clearly. I had picked up the phone a few times that morning to no avail – it had been my Dad or someone else. But, I happened to pick up the phone with a mouthful of peanut butter sandwich and it was someone calling to tell me I had won! I couldn't talk, with the food in my mouth, so I handed it to my Mom.