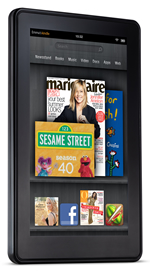 Disclaimer: I am a long time Amazon.com customer, which has led to me becoming a huge fan of the company and a shareholder. I just wanted to get that out of the way, up front.
I really love the Amazon Kindle Fire.
I would estimate that I am safely spending more than an hour every day on it and, more often than not, multiple hours, just depending on what my day is like.
There is a lot of video watching. I'm currently working my way through "My Name is Earl," every episode of which is free for Amazon Prime subscribers. I also have been playing a bunch of games. "Night of the Living Dead Defense" and "Airport Mania 2: Wild Trips HD" are among my current favorites.