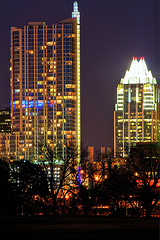 photo
credit:
butlerphotography
I'm about to head down to Austin, Texas for South by Southwest (SXSW) Interactive for the third consecutive year (2009 recap, 2008 recap). It's a tremendous event for those of us in the tech, web, social media, whatever you want to call it space. So many people are there, which makes it a little surreal, especially when you visit for the first time.
So, for those of you new to the show, here are my 5 quick tips for the event, in an effort to help you to get the most out of it.
1. Use the Hilton Bathrooms
Even if you're not staying there. Yes, I'm serious. The Hilton bathrooms are nice, clean and smell respectable. The Hilton is also part of the conference as some of the sessions are scheduled within the hotel. The convention center bathrooms do not even compare. Yes, it's a short walk across the street. It's worth it.