Amazon Echo is now available for everyone.
I received mine on November 28. As a Prime member, I was extended the $100 discount and purchased it for $99. But having used it extensively and owned it for 7 months now, I would have happily paid the $199. Disclosure: I am a long term Amazon shareholder and this post contains affiliate links.
When it first arrived, there was plenty of fun experimenting to be done. I'd show it to friends and family and, of course, they'd be amazed by it, as was I. It's just a lot of fun to have around and introduce to people who have never seen it before.
Day-to-Day Use
But moving past that, to more practical purposes, it has settled in as a useful household device with promise for the future. My home office is near my bedroom and the speaker is in range of both. Since I've had it for so long, it's simply "there."
I can ask it a random question and get an answer, without looking away from whatever I'm doing. If I need to set an alarm for the morning, I tell Alexa what time I want to wake up. I don't have an alarm clock and don't fiddle with my phone. If I wake up early and want to know just how early, I ask Alexa the time without even opening my eyes. When ESPN anchor Stuart Scott died, I heard the news when I was in bed and immediately asked Alexa for ESPN Radio. Like I said, Echo is simply "there" and becomes ubiquitous after that initial excitement and curiosity dies down.
Music Listening
As a speaker, it sounds good. But it's important to remember that this is not a portable device, nor is it intended to be one. It has no battery, it is larger (9.5 inches tall by 3.5 inches wide) than the average portable Bluetooth speaker and heavier, too. I own a Logitech UE Boom speaker for when I need a portable music speaker, and I love it (see the picture below for a size comparison). But that's not what this is. If I want to use the UE Boom, I have to turn it on, open my device, choose a song and make sure Bluetooth is connected. That's a portable speaker, and that's all it does. This is something else entirely.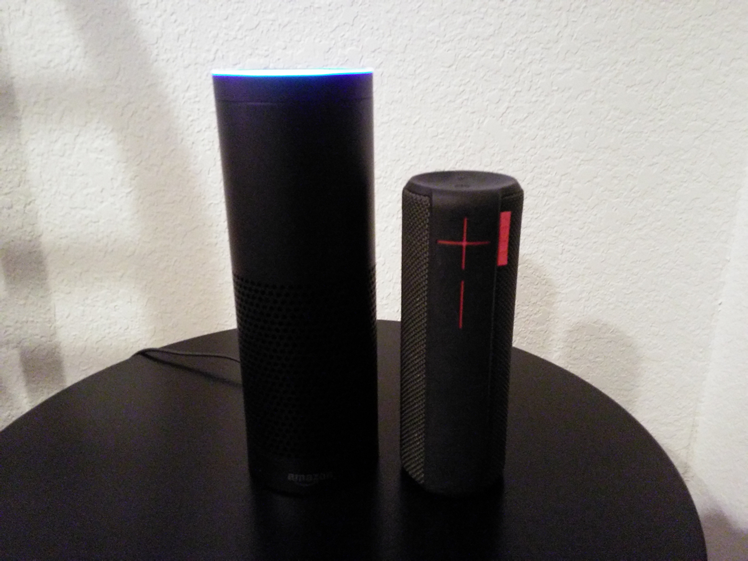 As a music consumer, I have a large collection of music that spans digital, CD, cassette and vinyl. I have it all on my computer, and I pay $24.99 for Amazon Music, which allows me to host up to 250,000 songs in the cloud. I was a paying customer of this service long before Echo, but Echo's release simply added more value as I can ask Alexa to play any of the songs I own, by title, artist or album. Many of these are songs that Amazon, Spotify, Apple, etc. will never, ever be able to license. The $24.99 for Amazon Music is a drop in the bucket. Of course, you can also have Alexa play music directly through Pandora, Prime Music, TuneIn or iHeartRadio, plus any other service (Spotify, iTunes, etc.) through Bluetooth.
The Future
I'm happy with where the Echo is at right now and feel it is well worth the money. However, I think there is great promise for the future with Echo, and Amazon's release will probably push other technology companies. I like how they are extending the ecosystem around Echo, slowly but surely. The IFTTT recipes are a great way of extending the device, and it's cool to see it working with other products, like Nest thermostats and WeMo-enabled devices. There are a lot of things you can ask Alexa to do, but it's really just the tip of the iceberg.
In summary, if you want a music speaker, buy a dedicated device. But if you are at all curious about Amazon Echo, or it looks like fun: buy it.