If you follow the NFL, you'll know that my Miami Dolphins had a big, headline-grabbing scandal last year involving bullying. Specifically relating to members of our offensive line. There was a special report convened by the NFL that found three players responsible for consistent harassment: Richie Incognito, John Jerry and Mike Pouncey.
Incognito is gone, without a team. Jerry has moved on to the Giants. Pouncey, a Pro Bowler and the most talented of the three, remains in Miami.
In the wake of this scandal, our offensive line was decimated. They weren't playing that well to begin with last season, but then we lost Incognito, Jerry and the target of the bullying, Jonathan Martin, a high round draft pick who is now playing for the 49ers.
Rebuilding the Line
The Dolphins have aggressively filled the need, landing Branden Albert, who many regarded to be the top lineman to hit the open market. After they brought him in, they added Shelley Smith and Jason Fox. In addition, it was widely expected that they would use the NFL Draft to bolster the line further.
When the first round of the draft rolled around last night, that is exactly what they did, taking Tennessee's Ja'Wuan James with the 19th overall pick.
Mike Pouncey's First Public Reaction to the Pick
Great pick! I can't wait for our gifts he's getting us lol
Oh no. Is this a parody Twitter account? No, it's official alright.
Part of last year's scandal was tied to veterans like Incognito and Pouncey forcing rookies to pay for extravagant trips. In Martin's case, he felt forced to pay for a trip he didn't even go on. And then you have Pouncey's joking about the gifts rookies will be giving him.
Branden Albert Applauds
As if that wasn't bad enough, I also happened to see Albert's first public reaction to the pick, as well.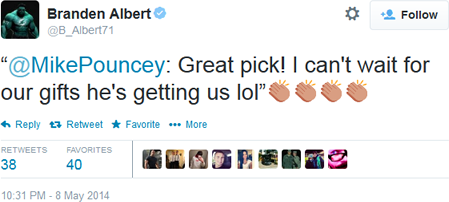 Wow. Last season was such an embarrassing one for the Dolphins (and their fans) and you'd think that the players would understand the need for discretion. Especially Pouncey, who is fortunate to have escaped without any consequence.
It's hard to paint this in a way that isn't an embarrassment to the organization and to coach Joe Philbin. Plenty will see it as an example of him lacking control of his locker room.
I've read about stories where college athletes are banned from using Twitter by their coach. I tend to think that's harsh and that you should educate them instead of banning them from it. But then you see tweets like this where you have grown men joking about rookie hazing when one of them was involved in a hazing related scandal not one year ago.
Photo credit: Brady Interception by Jack Newton, licensed under CC BY-SA 2.0.