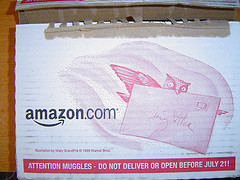 photo
credit:
i.m.indraneel
I'm a fan of the Harry Potter series. Today, I watched the final movie, "Harry Potter and the Deathly Hallows – Part 2."
When I think about things like this, what I tend to think of most is the passage of time. I wasn't a fan early. I got into it in the early 2000s and the second, and maybe the third, book had already been released. My brother Sean was a fan first and that's how I picked it up.
In 2000, Sean turned 11. I turned 16. My youngest brother, Trent, turned 2. Now, all of us love the series and we went to see the final film together. I'm 26, Sean is 22 (and heading to the University of North Carolina at Chapel Hill to start his third year of college, and first away from home, in just 6 days) and Trent is 13. So, that's what I think most of. Being kids and now being adults (and a teenager) and the time we spent together. I always marvel at the passage of time.
To see the final movie, it was an emotional thing. Not just because the movie has highs and lows, but because of that passage of time and because this is the final chapter of the story. As with any form of series based content that touches people, there is always a sense that, as long as there as a book or a movie or an episode left to see or consume, it was not over. But, this is it. It's over.
The film itself was wonderful. I really enjoyed it. To me, the whole series has been wonderful and has proven to be a constant source of happiness and enjoyment. I'm not much of a critic. I listen to music, I watch movies and television, I read books to enjoy them. And I enjoyed Harry Potter. I'll miss the feeling of "what's next?" But, all good things must come to an end.
Congratulations to J.K. Rowling and everyone involved with the publication of the books and the creation of the films. Thank you.