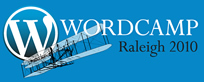 In May, I spoke at WordCamp Raleigh, held at the Sheraton Raleigh in Raleigh, North Carolina. Now that I have my SXSW Interactive recap out of the way, I wanted to sit down and share my experience at this event.
It was actually my first time in Raleigh, beyond just driving through, and a bunch of friends and people I already knew were attending the event.
One of the things that made it special was that it was the first ever live SitePoint Podcast. The show is hosted by Brad Williams, Kevin Yank, Stephan Segraves and myself. When we realized that WordCamp Raleigh would be the time that three of the four hosts would be in the same place at the same time (me, Brad and Stephan), we decided that we'd like to host a live show. We talked to the WordCamp Raleigh people and they really liked the idea, so we made it happen, with some help.
Despite having the word "camp" in the title (which threw some people off), the event was actually a planned conference with speakers coming from both the Raleigh-area and outside of the state and even the country. It was a great event and the organizers – Michael Torbert, Steve Mortiboy and Craig Tuller – deserve credit for that.
Friday, May 21
I left home and drove the 4 hour or so ride to the Raleigh-Durham International Airport to pick up my friend Brandon Eley, coming in from Georgia to speak at the event.
We headed to the Sheraton to check in and get settled, before heading down stairs to meet up with some people and get some dinner. Waiting down there was Brad Williams, who I've known for a few years and co-host the SitePoint Podcast with, but had never met in person. It was great to finally do so.
I also met Steve, Craig and Dave Moyer, who would be an important part of the live SitePoint Podcast at WordCamp Raleigh. But, more on that in a moment.
After some initial difficulty finding a place that would hold us all (within a short period of time), we ended up at The Oxford, a British-themed gastropub, which was really good. I had a Crab Cake and some Caesar Salad and sat next to Dave, Syed Balkhi and Brandon. Some great conversation. Dave recorded some funny footage, as well.
After dinner, we hung around the bar a bit and then headed back to the hotel to get some sleep for the next day.
Saturday, May 22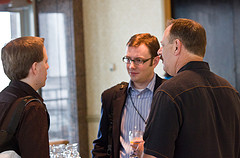 photo
credit:
@cdharrison
The conference had some muffins and juice out, so that was the first stop with Brandon. There, we caught up with Stephan Segraves, who had arrived late the night before. I talked with Steve Knight for a while, too.
My first presentation of the day was "Custom Taxonomies in WordPress," presented by Brad. He did a good job talking about a subject I knew little about but learned more about having listened to him. I met Chris Harrison before the talk (those are his photos to the left and lower right).
For my next session, I embarrassed myself. I had planned to attend Wayne Sutton's "Using WordPress to Build Your Brand." I went to what I thought was the right room. Except that it wasn't. What made it worse was that the presentation in that room was "I Want to Be a VideoBlogger!" by Gregory Ng, who is someone I've presented with and like a lot.
So, I entered his room, looked around, he saw me and I left. Wow, I'm such a great person! I went to Wayne's real room and it was packed with no room to sit. So, I ducked back out and went to Greg's session to stay. Greg gave me a bunch of cool things to think about as I one day hope to start my own video show.
After Greg's session, it was time for lunch. But not for me, Brad, Stephan or Dave. The live SitePoint Podcast was set to start in just one hour and we had to set up. We began right away and it's a good thing we did. With the help of Dave and an on-site volunteer named Will Lane, we managed to set up all of the technology and prizes, and get the show started right on time.
The WordCamp Raleigh people had been kind enough to have our lunch brought in the room. But, because we were so busy, we didn't eat it. Laptops, mics, mic stands, prizes, signs, web cam, chairs, tables, a mixer, cables, a presentation, presentation remote, projector, UStream, Audacity and whatever else – we were flying!
Dave was a big, big help when it came to the audio and video. I referred to him as the Chief Technology Officer of the SitePoint Podcast at WordCamp Raleigh and he was instrumental in pulling it off. Big thanks to Dave for being a part of it and for providing us with equipment.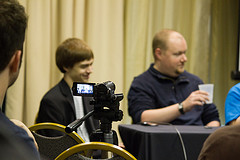 photo
credit:
@cdharrison
We had 11 guests, including Michael Torbert, Steve Mortiboy, Aaron Brazell, Lisa Sabin-Wilson, Brandon, Dave, Jeff Chandler, Greg, Wayne, Nathan Rice and Cory Miller. We had 33 prizes to giveaway, valued at over $1,500, and did so via questions for guests, randomly drawn prize packages and trivia questions asked during the show. Brandon Speaks, a volunteer at the event, was of great assistance in handing out the prizes.
The show went great. Our planning, before the show, paid off. After a somewhat rough start (in my opinion), we settled down and it went really smoothly. We were pleasantly surprised by attendance, as well. They gave us the biggest room and we held it for two hours. I would say the room was 80-90% full the whole time, which means probably 80-100 people. Dave also said that we had 300-400 people total check in online during the live show. It was great to do it live with the guys and have it go so well. Check out the show live and unedited below.
In the months following WordCamp Raleigh, we released all of the interviews in podcast form on SitePoint Podcast website. Listen: Michael Torbert and Steve Mortiboy (plus our impressions of the event), Aaron Brazell, Lisa Sabin-Wilson and Brandon Eley, Dave Moyer and Jeff Chandler, Gregory Ng and Wayne Sutton and Nathan Rice and Cory Miller.
After the show was done, and we cleaned everything up and thanked everyone. We needed to eat, so we went across the street to Jimmy John's to grab a sandwich and talk about the show. I returned to the conference for the final session set of the day, in support of Brandon, who delivered the "5 Tactics Bloggers Should Learn from Online Marketers" presentation.
Eventually, I walked from the hotel to The Pit to eat dinner with Brandon, Greg Williams, Steve Ollice and Jason Caffee. After that, we walked to The Oxford to join Stephan, Brad and others briefly before heading to The Bar. I sat and talked with Jeff and Ptah Dunbar. With my presentation in the morning, though, I needed to get some sleep.
Sunday, May 23
As one of the three opening presentations on day 2, I presented "Building Community Around Your WordPress Blog." Due to some speaker juggling, Brad was set directly against me on the schedule and had to miss my presentation. Brandon, Wayne and Jeff were there, but Stephan was missing in action, due to fun from the previous night.
The presentation focused on building community around your blog in three key areas: the community you have by default, community decentralized on sites that you do not control and the community you can cultivate on your own site. I then turned this into a three part series on my blog. Here are the slides from the presentation:
I was happy with how the presentation went and Jeff posted the audio from it up on his site. I intend to post video up at a later date, as well.
Next on the track was Dave with "Breaking the Trust Barrier: Establishing Personal and Professional Brand Reliability." I definitely wanted to support him, if I could, so I attended and enjoyed his presentation. After that, I went to lunch with Brandon and Wayne. Wayne lives in Raleigh and knows the area, so he led us to the Busy Bee Cafe.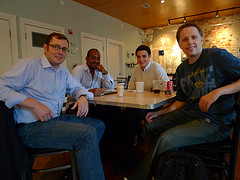 photo credit:
Brandon Eley
Brandon, Stephan and I all checked out of the hotel, but didn't really have to go, yet. So, Wayne took us to The Morning Times to hang out. It was great to have a chance to do so because, at other events, we often find ourselves torn in various directions.
Before long, it was time for Brandon and Stephan to head to the airport. We walked back to the hotel and I had been thinking of driving them and heading home, but decided I could really stay a while.
Wayne was kind enough to show me around Raleigh, walking up and down various streets and pointing out different landmarks to me. Eventually, we sat down at the Tobacco Road Sports Cafe for an early dinner or snack of sorts.
I really appreciated Wayne showing me around. He, Brandon, Stephan and Brad are four of the nicest people I know and part of what made the event so great for me.
Around 6 PM or so, I headed home, with about a 4 hour or so drive back to the Outer Banks. There was one noteworthy item from that trek: I stopped in Tarboro to get some gas and a drink and I saw something I had never seen: Pepsi Cherry Vanilla. I had to get some of that. It wasn't the best soda I've ever had, but I would probably have it again. Unfortunately, it is or was only available for a limited time.
Conclusion
In addition to all of the folks mentioned above, I chatted with Brandon Pierce (who I had met in October 2008 at ConvergeSouth) and Danielle Hatfield and met Jeremy Reis, Helen Yoest and some of the team behind WPBeginner – in addition to founder Syed Balkhi, also writers Muhammad Karim and Amanda Roberts. I really enjoyed talking with them.
If you'd like to see some photos, Marx Jordan Benzon has a great set and there are some great shots on Flickr, too.
In all, WordCamp Raleigh was a wonderful experience. A big thank you to Michael, Steve and Craig for putting it together and for being our partners in bringing the SitePoint Podcast to the event. Thank you to Brad and Stephan for their work on the show and all of that fun stuff.
Thank you to SitePoint (Kevin Yank and Shayne Tilley, especially) for allowing us to do it and for providing us with prizes to give away, along with Wiley, AMACOM, iThemes, Headway Themes, StudioPress and Semper Fi Web Design. Thank you to Dave Moyer, Brandon Speaks and Will Lane for helping us with the behind the scenes stuff.
Finally, thank you to Brandon, Wayne and everyone else who made the event special, fun and memorable. It was a great time.