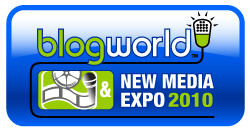 For the second consecutive year, I've partnered with BlogWorld & New Media Expo to promote the event on the iFroggy Network.
I have attended and spoke at the conference for the last two years and I believe it to be one of the most beneficial blogging, social and new media based conferences that exists today. I'm glad to be back this year to attend and speak once again as the event moves to Mandalay Bay (where I hope to be staying).
As part of our partnership, they have provided me with a coupon code that will get you 20% off of any BlogWorld & New Media Expo pass. Through September 16, this will include the already discounted rates. But, the code will be good right up until the start of the conference. The code to use is IFROGGYVIP.
Currently, this will knock the Full Access Pass down from $895 to $716 and the Weekend Pass from $395 to $316. After September 16, those rates will change to $1,195 ($956 with coupon) and $495 ($396), respectively.
Both passes are a good value, but I think that the Full Access Pass is the one to get, if you can swing it. It gives you what the Weekend Pass does, which is access to general conference sessions on Friday and Saturday, the party on Thursday and the networking reception on Saturday. But, in addition, only the Full Access pass allows you to access the Social Media Business Summit sessions on all three days, plus general sessions on Thursday, the networking luncheon on Thursday and access to the conference break area, which includes lunch and snacks on all three days.
You can register on their website. If you plan to attend, please let me know in the comments. I look forward to meeting you there.