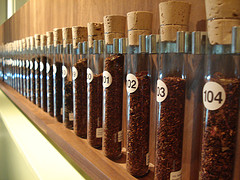 photo
credit:
storyvillegirl
In general, I like to encourage experimentation in most things I'm associated with. I like to see people try something new, even if they find it wasn't as good as what they had before. This is especially true in business and this whole online community and social media thing.
If no one dares to be different, nothing ever changes. Nothing ever gets better. Yes, by experimenting, there is a very good chance that you'll be displeased with the results, but that's better than the other way around: which is to never try anything new and to just stay where you are.
It reminds me of a clip I saw of R&B singer Brandy working on Sean "Diddy" Combs' last album, "Press Play." She was saying that Diddy made her sing the same part over and over again, but then ended up selecting the first one she sang or one of the earlier vocals. Her implication was that he was being too difficult, too much of a perfectionist. But, Mr. Combs said something in response, that was perfect. He said that her first vocal may have been the best one, but that he couldn't know for sure until he had heard her range. You don't know what's best until you try a variety of things.
Example #1: Ars Technica Blocks People Who Block Ads

Let me talk about a few different examples. First, we have Ars Technica, a very popular tech publication. Earlier this month, they blocked visitors who were blocking ads. Apparently there was a bit of a hubbub, but I didn't hear anything about it until this eloquently written post by Editor-in-Chief Ken Fisher. He made the case for why ad blocking hurts publishers very well, I feel.
This is an issue that is near and dear to my heart, as a web publisher who relies on advertising and is, frankly, not doing that great. I'm not saying that they handled it perfectly, but what I am saying is that the idea of the experiment excited me. I'm sure they got useful data out of it. Blocking people who block ads isn't a new thing, but it is somewhere that, in my recollection, few publications as large as Ars have dared to go. In the end, they decided to go back to what they were doing previously, for now, but they couldn't have decided where to go next without first trying this.
Example #2: Common Craft Launches Web Licensing Model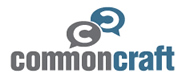 Lee LeFever, a good buddy of mine for many years, is one half of the brilliant Common Craft video team, along with his wife, Sachi. It has been a great pleasure to watch them grow and become more successful and, as much as one can be proud of their friend, I am of them. Recently, they announced their decision to launch a "Web License." Essentially, they are asking people to pay to embed their videos on public websites.
Lee has felt the need to clarify their model and even defend it against inaccurate statements coming from a couple of outlets that, suffice to say, are not among my favorites, due to their style. It's unfortunate to have to watch when one of their targets is one of your friends. But, with success, so it comes.
Here's the thing: while some may not like the pay to embed model – and who knows how it will work out, though I hope it works out well for them – you have to respect them for trying it. As Lee said, Common Craft isn't a viral video company. They're not a company that is being paid off ads, so views are less important. They are also not a company that is doing much, if any, client work anymore. They maintain their fee-based Explainer Network for that, operating as an intermediary between people who need videos and those who make them.
No, they decided that they wanted to do educational videos; do the videos they wanted or saw a need for. Make those videos available on their website and sell them to organizations who can use them to inform their employees, their people, their audience. And so their web license is just an extension of that. They'll use it, they'll see how it performs and they'll become better for the experiment. Other video production outfits will learn from their experiment as well and the "industry" will be richer for it.
Example #3: Sean "Diddy" Combs and … Everything He Does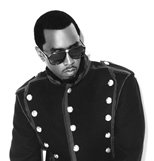 Mr. Combs is an excellent example of this, as well. He has taken risk after risk. Some ventures have been unsuccessful, but his overall success has been staggering and undeniable. This is someone who had a love of music and through hard work, became one of the youngest executives in the industry and leveraged that into his own record label.
He became a music producer, with a production pedigree that few can match. According to Rolling Stone, he executive produced 3 of the top 500 greatest albums of all-time. He took a risk and stepped from behind the boards to become a performing artist, leading to international stardom and a debut album that was certified platinum seven times. He's won 3 Grammys and been nominated 9 times. He didn't stop at music, though, as he kept pushing and made his mark on fashion.
Sean John, his clothing line, has been a hit since launch and is reported to be worth around $500 million dollars. This led to fragrances, such as Sean John Unforgivable, which was the top selling fragrance in 2006, the first time a fragrance for men had ever – ever – been the top seller, in the first 10 years of The NPD Group's tracking of fragrance sales.
Is that all? No. He's the brand manager for Ciroc vodka, with a deal that allows for a 50/50 share of profits with parent company Diageo. He's executive produced hit TV shows and movies and acted on the big screen, the small screen and Broadway. He's the quintessential example of a tireless, grinding, street smart, board room smart entrepreneur. He gets criticized to an extreme degree by people who take shots at his talent, his past decisions and the tragedies that he's faced in his life. But, if you're in business, you'd do well to pay attention.
You Cannot Be Great Without Experimentation (Also Known as Risk)
The fact is that, in the world of business (and everywhere else, really), the greatest success stories tend to come from the people who did something different, who took a risk. Bill Gates believed software should be paid for – even by hobbyists, Sam Walton let customers pay for all of their items at the same time, kept his stores open later and bought in bulk, Jeff Bezos took a good book business and turned it into one of the most important retailers in the world. You can stay comfortable, or you can try something new.
Innovation is the word people use, when they talk about this stuff. But, you don't have innovation without experimentation and experimentation is the hard part because it's the risk; it's the part where you find what works and what doesn't and deal with the fall out. Criticism is healthy and helps us improve. But, don't discourage people, simply because they are trying to do something differently. Sit back, watch and learn.
"It is not the critic who counts: not the man who points out how the strong man stumbles or where the doer of deeds could have done better. The credit belongs to the man who is actually in the arena, whose face is marred by dust and sweat and blood, who strives valiantly, who errs and comes up short again and again, because there is no effort without error or shortcoming, but who knows the great enthusiasms, the great devotions, who spends himself for a worthy cause; who, at the best, knows, in the end, the triumph of high achievement, and who, at the worst, if he fails, at least he fails while daring greatly, so that his place shall never be with those cold and timid souls who knew neither victory nor defeat."
– Theodore Roosevelt