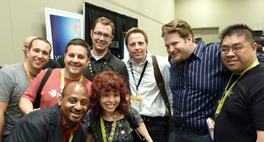 photo credit:
Calvin Lee
I returned from SXSW Interactive a few days ago, and a full recap of the event is forthcoming, even if it isn't soon (I'm maybe half way as far as catching up to everything I need to catch up with). In the mean time, I wanted to share something.
One of the things that I felt pretty strongly throughout is that I am incredibly blessed to know the people that I know. As I wrote this post, I started grouping people up into categories, but that's  just too difficult. There are my long term friends, there are friends I've made recently, there are people who I'm still building a relationship with, who I wouldn't (yet) identify as a "friend" in the serious sense of the word, more as an acquaintance and I am sure there are other categories, as well.
People like Brandon Eley, Chrispian Burks,  Jared W. Smith, Jeremy Wright, Wayne Sutton, Deb Ng, Zack Urlocker, Thom Singer, Jason Falls, Muhammad Saleem, Nathan T. Wright, Rich Brooks, Darren Rowse, Gregory Ng, Zach Ward, Kipp Bodnar, Jeff Cohen, Ryan Boyles, Abby Johnson, Thomas Myer, Rick Calvert, Dave Cynkin, Calvin Lee, David B. Thomas, Chris Garrett, Chris Brogan, Heidi Miller, Paul Boag and others. (Note: this list is only people I had spoken to before seeing them at SXSW 2010… and it's not a complete list, so if you're not in it, you know who you are and I'm sorry).
But, as I randomly bumped into some of these folks and spend substantial portions of time with others, the thought that persistently popped into my head was: I'm really thankful to know so many cool, good, supportive people. Thank you to all of them, and others, for making SXSW 2010 a great experience.