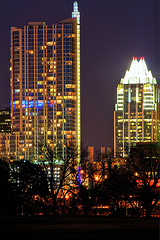 photo
credit:
butlerphotography
I'm about to head down to Austin, Texas for South by Southwest (SXSW) Interactive for the third consecutive year (2009 recap, 2008 recap). It's a tremendous event for those of us in the tech, web, social media, whatever you want to call it space. So many people are there, which makes it a little surreal, especially when you visit for the first time.
So, for those of you new to the show, here are my 5 quick tips for the event, in an effort to help you to get the most out of it.
1. Use the Hilton Bathrooms
Even if you're not staying there. Yes, I'm serious. The Hilton bathrooms are nice, clean and smell respectable. The Hilton is also part of the conference as some of the sessions are scheduled within the hotel. The convention center bathrooms do not even compare. Yes, it's a short walk across the street. It's worth it.
2. Don't Try to Be Everywhere
There is a lot that you can do. There is a ton of programming, plenty of parties and a lot of other cool stuff going on. Don't try to do it all. If you're surrounded by a good group, having good conversation, making good connections… try to stay.
Don't leave just to go to the next place where you hope to meet others. If you've got a good thing going, keep it going a little longer.
3. Eat Well, Stay Hydrated and Sleep
Don't cheat yourself. This is different for everyone. The key is to know what you need to do and then do it, regardless of other temptation. I know I need sleep and I try to get it. I don't stay out to 3 in the morning and then hope I feel good in the morning. Oh, it's midnight and this party is so fun… too bad, I'm checking out. I want to be productive the next day.
4. Make a Schedule Before the Conference, But Stay Loose
Scan the conference schedule before you arrive in Austin and mark everything that you might want to go to. Keep this schedule handy and on you at all times. But, don't worry about getting to it all. Get to some of it and stay fluid on everything else. Having a great conversation in the hall, but a session you kind of wanted to go to is starting soon? Skip the session, unless it's important.
5. Stay at a Hotel Within Walking Distance
This one is not fair because it's already probably too late. But, keep it in mind for next year. I stayed at the Hyatt Regency the first year. Awesome hotel! I love the Hyatt Regency hotels. The problem is I had to take a cab to get to the conference. It takes more time and more money. There are a handful hotels that are within 5 blocks – stay at one of those.
The best one I've discovered is the Hilton Garden Inn, which is just behind the Hilton. It's $60 cheaper a night than the Hilton, just as nice room wise and the walk is only a couple minutes longer. I registered on the first day of registration just to lock in that hotel for SXSW 2010.
With these tips in mind, I wish you a great conference! If you can make it to my talk, I'd love to see you there. But, if not, please say hi at some other time!