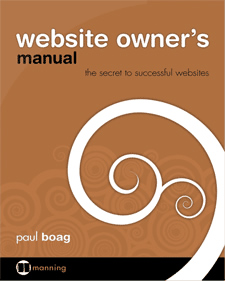 Back in September, I was approached by Manning Publications about receiving an advance copy of an upcoming book, "Website Owner's Manual" by Paul Boag, founder of Headscape and the creator of Boagworld, one of, if not the, most popular web design podcasts in the world. They provided me with an advance eBook, in consideration of a review or advance praise for the book's cover.
I had met Paul for the first time at South by Southwest last year and we exchanged a few e-mails. He seemed like a pretty good guy, so I agreed to look over the eBook. I've since been able to get to know him ever so slightly better and that has only worked to confirm my initial impressions.
I read the book, from cover to cover, but instead of writing a review or praise, I offered feedback on areas of the book affecting the online community space; areas that I felt would be worthy of adjustment. At that time, Paul was unable to confirm what the final book would include, so I felt uncomfortable reviewing and potentially criticizing a book for something that it may not even actually end up having. I didn't want to do that to myself, Paul and any of the people that worked on the book (knowing first hand how many people that can take).
But, today Manning sent over the final eBook for my perusal and it looks like all of my concerns were addressed. With that in mind, I have a few thoughts to share about the book. This isn't a full, detailed review – it's just my impressions and they are based on my complete reading of the unfinished draft with the exception of the passages that I just mentioned, which I reread in the final version.
The book is aimed at those who are organizationally responsible for the planning, launch and management of a website, but who also don't have much (or any) web design or development knowledge. It tackles all of the subjects, and then some, that the average website manager (for lack of a better title) will have to deal with. Among the topics covered:
Picking a design or development agency, how to communicate with them and what to expect from them
Design concepts, including website design, layout and branding
The nuts and bolts of running a site, including content management, domain names and web hosting
Complementary coverage of subjects like website promotion and online community
The book is written in plain English as Paul placed an emphasis on not using lingo that web designers and developers might use amongst themselves – or technobabble, as he calls it.
I think that Paul nailed the niche and has positioned the book well for the intended audience. Most every company wants or needs a website – and should have one. But, the prospect of dealing with an agency or an outside contractor can be an uneasy situation due to one's own lack of knowledge and the cost associated with development.
This book bridges that gap, giving you some knowledge to fall back on and helping you to work with your designer or developer and to have the proper expectations and respect for their knowledge and experience, while also keeping them honest and ensuring that they deliver what you need.
It also gives you an understanding of the responsibilities tied with website management and maintenance. It strikes me as a book to read from cover to cover, but also as one to keep handy – during the development process especially.
It's a great read and I'd recommend it to anyone who is or will be tasked to lead a website development project or anyone who has been in that position before, but didn't come away feeling comfortable or assured. It's also a worthy read for those who are in charge of maintaining a website, but would like to broaden their knowledge and grow. Finally, I'd say web designers can benefit from it as well, as it serves as a foundation for a good agency/client relationship.
In this web space, you constantly hear about web design clients who make strange or unreasonable requests because they lack design of web knowledge. But, for every one of those, there is a web designer too stuck in his or her ways or too prideful to make adjustments for what the client actually wants or needs. We all need each other and we all have our faults. I see this book helping to bridge that relationship, on both sides.