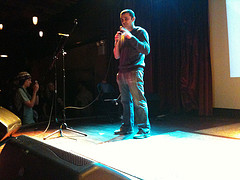 photo
credit:
jasonkeath
Sometimes, in reference to someone's writing or a speaking engagement or some sort of content, a reader might say "well, that's common sense." As if that's a bad thing.
Common sense is a funny thing, for two reasons:
Nothing is common sense. Until it is.
Common sense for you may not be common sense for me. For every (virtually) universal common sense, there is a common sense more along the lines of "yeah, I agree with you."

This post was partially inspired by a Twitter conversation on Gary Vaynerchuk's stream. I don't recall the exact conversation, but someone had said that he wished Gary would talk about something else, how he talks about the same stuff, etc. And Gary responded with something along the lines of "I can only talk about what I know" or "I have a message to spread" or something like that.
And I think that's a good point to remember. Yeah, I give different talks on different subjects and have yet to give the exact same talk twice – though my talks have certainly overlapped. But, that'll change. If you attend a talk by a speaker that sounds like the same talk you already heard by that speaker, based on the title alone… well, that's not really the speakers fault, is it?
Similarly, understand that people are trying to spread and share a message to the people who haven't already seen it. Unless you're the President, more people probably haven't seen it than have seen it. So, that is a constant. They're trying to reach people they haven't already reach.
Finally, common sense isn't a bad thing. If I'm giving a talk and you're already on board with what I'm saying and feel like you can get nothing from my talk, my talk is not for you. It's for the people in the room that don't already know what we know.