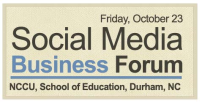 Directly following Blog World & New Media Expo in October, I was able to attend and speak at Social Media Business Forum in my home state of North Carolina.
I was on two panels: "Advertising and the Social Web: Can it Work?" with Gregory Ng, the Creative Director at Brooks Bell Interactive and David Millsaps, Senior Web Architect at VisionPoint Marketing; and "Building and Managing an Online Community" with Ryan Boyles, an Advisory Software Engineer for IBM and Laurie Smithwick, Founder and Creative Director of LEAP Design and Founder of Kirtsy.
It was the inaugural edition of the conference, organized by Jeff Cohen, Kipp Bodnar, Ryan Boyles and Wayne Sutton and it was a wonderful experience.
For more on my time at the event, please check out the full recap at ManagingCommunities.com.