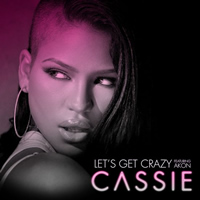 For the second consecutive year (see 2008), I've culled my Last.fm listening data in order to map out the songs and artists I listened to most in 2009. Instead of sharing it all in one post, this time I am going to break it up into two and this first post will cover individual songs.
This data takes into account only the top 500 songs from my playlist in the past year, as that is all that Last.fm displays. With that said, here are my top 25 most played tracks of 2009 (if the song was ranked last year, I'll include a mention of that at the end of the listing):
1. "Let's Get Crazy" by Cassie featuring Akon
2. "Hottest in the Hood (Remix)" by Red Cafe featuring Jadakiss, Rick Ross, Fabolous, OJ Da Juiceman and Diddy
3. "Angels" by Dirty Money featuring The Notorious B.I.G.
4. "Diddy Bop" by Diddy featuring Yung Joc
4. "Love Come Down" by Dirty Money
6. "Ciroc Star" by Chester French featuring Diddy, Jadakiss and Clinton Sparks
7. "Must Be Love" by Cassie featuring Diddy
7. "PATT" by Sharam featuring Diddy
9. "I'm On a Boat" by The Lonely Island featuring T-Pain
9. "J*** In My Pants" by The Lonely Island
9. "Reminder" by Jay-Z
12. "What's Done is Done (Remix)" by Marina Chello featuring Gorilla Zoe
13. "Arab Money (Remix)" by Busta Rhymes featuring Ron Browz, Diddy, Swizz Beatz, T-Pain, Akon and Lil' Wayne
14. "Next 2 Ya" by Krys Ivory featuring Ryan Leslie
15. "Used to Be" by Ryan Leslie featuring Fabolous (Last Year: 7)
16. "Talk Go Through Us" by Lil' Cease featuring Fabolous and The Notorious B.I.G.
17. "Day 'N' Nite" by Kid Cudi
18. "My President (Remix)" by Young Jeezy featuring Nas and Jay-Z
18. "Need a Wife" by Charlie Wilson featuring Diddy (Last Year: 2)
18. "Triple Black Room (Remix)" by Joe featuring Diddy
21. "Imma Put It On Her" by Day26 featuring Yung Joc and Diddy
22. "It's My Time" by Fabolous featuring Jeremih
23. "The Fabolous Life" by Fabolous featuring Ryan Leslie
24. "Better On the Other Side" by The Game featuring Chris Brown, Diddy, Polow Da Don, Mario Winans, Usher and Boyz II Men
24. "Flight School" by T-Pain featuring Kanye West and OB
24. "Welcome to Heartbreak" by Kanye West featuring Kid Cudi
Analysis: Haha, yes, I am a huge, huge Diddy fan. That's no secret. 11 of the tracks feature him (or Dirty Money), up from 9 last year. 15 feature a current or former Bad Boy Records artist (down from 17 last year).
It's odd to see that second The Lonely Island track up there. But, it's a funny track that's also insanely catchy, so I guess that explains it. I didn't expect "Next 2 Ya" and "Talk Go Through Us" to be so high up, either.
In part 2, I'll chronicle the individual artists that I listened to the most in 2009.