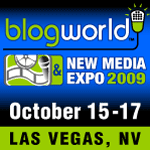 In October, I attended Blog World & New Media Expo for the second consecutive year. It was a great event and I had a lot of fun.
Besides meeting a lot of people, seeing a bunch of friends and attending some sessions, I lead a panel discussion called "Social Media: The Bad and The Ugly" with Amber Naslund; Director of Community at Radian6 and blogger at Altitude Branding, Wayne Sutton; Partner at OurHashtag and blogger at SocialWayne.com and Robert Scoble; Managing Director at Building43.com at Rackspace and blogger at Scobleizer. I also did a book signing for "Managing Online Forums" and participated in a community Q&A at the Skimlinks booth on the trade show floor.
If you're interested in reading more, I've written about my experiences in great detail in my long recap over at ManagingCommunities.com, including pictures, video and panel slides.