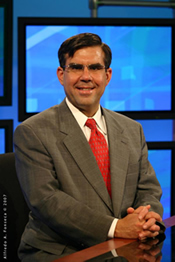 I was on Facebook when I saw that my friend Tom Tollefson had joined the "Save Al Kaprielian's Job!" group. Started by Zito and Karen Blake, a pair of DJs at Boston-area radio station 103.3 WODS-FM, the group has 2,823 members as I write. But, you're probably asking: who is Al Kaprielian?
Al has been the weatherman on New Hampshire-based TV station WZMY (formerly WNDS) for 26 years. In the area, he's something of a legend, due to his approach to explaining the weather, which is fun and light-hearted with imitable, high pitched catch phrases. "High pressure!" "Good eeeevening!" I lived in the Hudson and Nashua, New Hampshire area for around 10 years and if there is such a thing as a local TV fixture, Al is it. To get a sense for why this is, watch this video, which was produced to commemorate his 25th year at the station.
I also went on a field trip while I lived there where we met and got a tour from him. On and off TV, he's always come across as someone who cares about the weather and, more importantly, a good man.
Unfortunately, he's been laid off. Albert McKeon of the Nashua Telegraph reports on the situation. Apparently, the network's parent company is cutting it's staff and, sadly, Al is on the list. His final broadcast will be December 31.
I joined the Facebook group to show my support for him, but all good things must come to an end and it looks like his time at that network is over. But, I don't think Al is close to done. According to the Telegraph article, he wants to continue doing the weather on TV – just for another station. The article mentions WMUR as a local option, but they've already got a three person team.
Mike Millard at The Phlog says that Al told the Boston Globe that he would like to get into the Boston market. "Boston's not an easy place to get into," he's quoted as saying. "I wouldn't mind it someday. We'll see what happens." And wouldn't that just be a great thing for him to move on to bigger and better things. I hope one of the big stations gives Al a shot.
Personally, I think Al will be fine. He's got the kind of visual passion that Gary Vaynerchuk talks about and another network or outlet will hire him and they'll be better for it. In fact, I think Al could be a big hit online. The key would be execution (the technology) and how the money would come, of course, but Al is a cult hero and his unique personality would translate really well to the medium. My friend Jared W. Smith is huge into this and weather is one of his passions. He's behind Charleston Weather and is known to do his own live weather forecasts and reports online.
In fact, if I ran a publication in New England, either online only or traditional (newspapers, magazines, etc.) with a strong online play, I'd be calling Al right now. I'd hook him up to YouTube, USTREAM, Twitter and Facebook, give him a web savvy producer (someone like Jared, honestly – someone with web video and social media experience, not so much TV experience) and let him give weather updates all day long. Plus, branch out and see what other weather content he could create. For example: weather education videos, explanations of terminology, stories from the field, etc. I'm sure this type of content is already out there, but Al's perspective and personality is what will make them.
This is a great opportunity for New England outlets who are looking to create some great online programming. Al's audience will follow him, your audience will grow and he'll give you instant credibility both in weather and with the New Hampshire based companies that know him and will advertise with you because of him.
At any rate, I wish Mr. Kaprielian the best of luck. I look forward to what comes next for him.