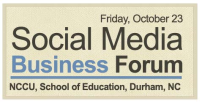 On October 23 in Durham, North Carolina, I'll be speaking at Social Media Business Forum. I'm featured on a pair of panels during the first half of the day's programming.
From 9:00 AM to 10:00 AM, I'll be participating in the "Advertising and the Social Web: Can it Work?" session with Gregory Ng, the Creative Director at Brooks Bell Interactive and other panelists to be determined. With my articles relating to the Sports Legends Challenge spam marketing practices, I've talked about how not to penetrate the social web, as an advertiser or a marketer. So, this should be a lot of fun.
The "Building and Managing an Online Community" panel will be my next stop, from 11:30 AM to 12:30 PM. For this one, I'll be joined by Angela Benton, the Publisher of BlackWeb20.com; Ryan Boyles, an Advisory Software Engineer for IBM and Laurie Smithwick, Founder and Creative Director of LEAP Design and Founder of Kirtsy.
Social Media Business Forum is shaping up to be quite an event with an excellent speaker lineup. If you are within 5 hours of Durham and you are involved or have an interest in business, social media, web development, marketing, online community or any related subjects, it is definitely worth checking out. You can register online. If you're coming, please let me know!