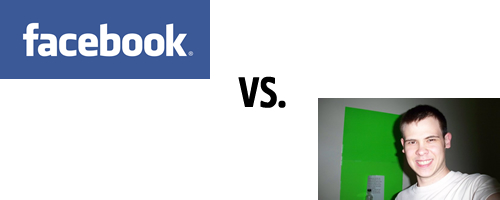 My (former?) friend Jared Smith was recently notified by Facebook that his wall post usage constituted spamming. You can read the whole story on his site.
I, for one, am shocked by this revelation. I considered Jared a close friend, but his reckless behavior in wishing his friends a "Happy Birthday" showed, to me, that he doesn't care for those that are associated with him. He messed with thunder and now, he must pay the price.
I confronted Jared this evening:
Patrick says: Did you think of me?
Patrick says: Or the children?
Jared says: I want to apologize for actions I may or may not have made in the past.
Patrick says: I mean, you can't just go throwing around "Happy Birthday's" like candy or something.
Patrick says: Try not to be so reckless.
Jared says: I have apologized to my family, friends, and the fans, and I would like to move forward.
But, will it be so easy? I don't think so. Here is how I see this playing out:
One Week Later
Facebook has commissioned former Senator George Mitchell to investigate the mass "Happy Birthday" spamming on their social network. "I'll get to the bottom of this," Mitchell pledged.
Seven Years, Eight Months Later
Microsoft's Facebook unit released it's Mitchell Report today. The damning evidence came in the way of logs of 57 "Happy Birthday" messages sent by Jared W. Smith of Charleston, South Carolina, over a span of 578 days. Smith's former ISP, TrammellNet, claimed that Smith had marked the day of a friend's birthday, in advance, 32 times on his web based calendar. This indicated a premeditated effort to wish those friends a Happy Birthday, clearly in violation of Facebook policy.
Two Days Later
Smith maintains his innocence. Smith's attorney, Chromey Soften, claims that "the only thing Mr. Smith is guilty of, is caring too much for his fellow man. Justice will prevail."