Darren wrote a post sharing his workspace and inviting others to post theirs, so I thought I'd do that. I posted a picture of my desktop more than a year ago and not a whole lot on it has changed, though there are some differences. Here is what it looks like now: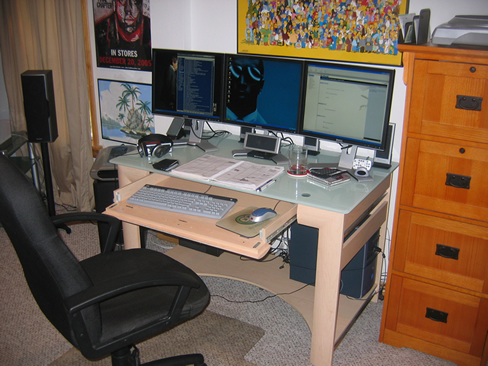 Under the desk is the sub woofer for my speakers as well as my computer. I've described those previously. The 5 speakers are on the desk, behind my monitors. The volume control sits on my desk, to the left, under my headset, which is a Plantronics Audio 90. I also have a DSP-400, but I find the Audio 90 to be more comfortable and it doesn't take over my computer like the DSP-400 does. The DSP-400 does perform better, though, as a microphone.
My LCDs are Dell 1907FPs. My wallpapers are the same as the last photo, except that, in the middle, Diddy replaces Homestar Runner. I have Winamp open on the left (still rebuilding that dang playlist) and Outlook Express open on the right.
At the base of the right monitor is my Keyspan remote. In front of that is a couple of CDs that I just bought that I have to rip ("Too Old For Me" promotional CD single by Jerome and "Love & Life" (with U.K. bonus tracks) by Mary J. Blige) with a calculator sitting on top of them. I prefer a calculator in my hand to one of my PC for whatever reason. Next to that is a glass (I drink lots of water) on top of a Coca-Cola coaster.
Next to that is my planner where I write various things that I need to get done and remember. Below that is a stack of paper on each side. This include things like a list of domains that I own, a ledger of all ad campaigns and expiration dates, a to do list and various plans I have written. Next to that is my wallet because I am always entering credit cards/credit card verification numbers into something, so I just keep it there, usually. I have the keyboard and mouse that came with my PC and the mouse sits on an iFroggy.com mousepad.
Beyond the desk to my left is my new (bought in July) CanoScan CS8600F scanner. It sits on the sub woofer to my sound system. To the right is my file cabinet, which is pretty new (finally bought myself a real file cabinet after reading the Lifehacker book) and on top of it is an organizer with bills and checks to deposit as well as my Ion USB turntable.
Beyond the photo, my workspace is conveniently located, with my entertainment center to my immediate left and my bathroom to my immediate right. :)