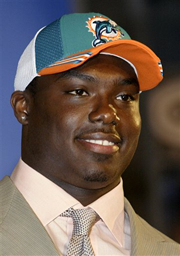 With 54 seconds left on the clock, the Dolphins selected Auburn running back Ronnie Brown. 6 feet, 233 pounds of (hopefully) great running back.
The Dolphins then picked DE Matt Roth in the second, ILB Channing Crowder in the third and CB Travis Daniels in the fourth. As I submit this, we're X picks away from our fifth round selection. After that, we have only one pick left – in the 7th round (216 overall).
The Sporting News mock draft had our first three picks all being taken in the 1st round (2, 28 and 32) and the USA Today mock draft had the same thing (but 8, 23, 29).
All in all, the draft seems pretty good to me.