December 1, 2009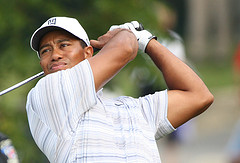 photo
credit:
Keith Allison
As this Tiger Woods story developed, I cringed. Repeatedly. Not because of anything Mr. Woods did, but because of how some people reacted to it. Major press, random writers, random people. Some think that by staying quiet, Woods is doing damage to his personal brand – damage that is, perhaps, irreversible. Personally, I disagree. I think this is largely an unfair, major dramatization. Tiger Woods is not an example of how not to manage a crisis – he's an example of consistency. And his personal brand is fine.
Some People Wait for You to Struggle
This is a great example of how there is no such thing as earned credibility with some people. You can't ever make a mistake, because it won't matter how well you've done for yourself, it won't matter how graceful you've been, how much charity work you've done. None of it matters. You can't earn a break or the benefit of the doubt with them. People will pounce on you the moment they can use something against you. And there is nothing – nothing – you can do to stop them. If Tiger Woods had come out and done some sort of confessional explaining whatever happened that night – which may have been as little as what we already know – that would have prevented absolutely nothing meaningful.
People are acting like he was driving under the influence of alcohol, assaulting his wife or doing drugs. I've met and talked with many celebrities. Celebrities are just people. Celebrities are not companies. Tiger Woods is a brand, but Tiger Woods is a person, too. And people go out at 2 AM. People drive at 2 AM. Single car accidents happen. People make mistakes. It's not particularly extraordinary. It's also not strange for a private citizen to refuse to talk about something like this. People also have a right to privacy and they have a right not to share private matters with the public. To suggest that Tiger Woods needed to come out and address this is entitlement.
Entitlement is Ugly
This might be yet another example of how far our society has fallen when it comes to respect for our fellow human being and how we fail to treat people as we ourselves would like to be treated. I love social media. But, I hate that some people feel it means you get to know everything you want about a person. And if they don't tell you everything you want or want to hear, then they are somehow wrong for not doing so. As opposed to you being wrong for imposing upon them.
The lesson here is not that Tiger Woods handled this wrong. The lesson is that we need to be more reasonable as human beings in how we treat our fellow man. Tiger Woods is a brand, but he's also a person. Just like you and me. We have friends, we have fans; people who like us, people who support us. Do you tell them everything they want to know about your personal life? Would you? Without limits?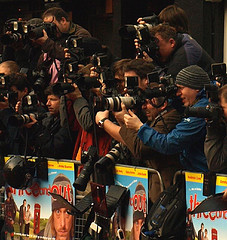 photo
credit:
internets_dairy
Social media has become a feeding frenzy on celebrities, so much so that to some it seems like an uncaring mass of people who say things about celebrities they'd never say about a non-celebrity to their face. However, this does not mean that celebrities have to bow to it, play into it or encourage it. Just because people feel they're entitled to access to the private lives of other private citizens that are in the public eye more, doesn't mean they actually are.
To suggest Tiger Woods must go into detail with the public about a car accident he was involved in is to place entitlement on his private life. You have a responsibility to your fans, yes, but your fans do not own you.
Mr. Woods doesn't need to say anything about this at all. His statement said enough. It confirmed the facts, as he sees them, and that's it. He doesn't need to tell us where he was going, what his wife was doing, what conversations he had before he got in his car, etc. That's an invasion of his privacy. The fact that certain members of the media have taken this situation as an opportunity to pry into his personal life is unfortunate and, at times, disgusting. I watched an ESPN reporter ask "where was he going?" Huh? He's a private citizen; it's none of your business.
Are You Consistent When it's Easy… and When It's Hard?
As I mentioned, he's an example of consistency. Tiger Woods has always been a private man and he always will be. Whether good or bad, in victory or defeat, he's very protective of his private life. That is part of him. And it always has been. If you didn't like it by now, you were never going to get on board. Mr. Woods is not losing many, if any fans right now that are actually his fans. Personally, I respect the way he goes about his business. It's similar to how Derek Jeter is. There are boundaries that both men set – and they hold firm. This makes them different than a lot of celebrities, but they desire to keep their private lives private, regardless of what tabloids report, and that is appropriate and should be respected.
This was crystallized in an article at CNN.com by Lisa Respers France. Check out this quote:
"We see him on Sundays, wearing red, holding trophies, but I don't think we really know that much about him, which is an anomaly in the world we live in right now with everyone knowing every little detail about Lindsay Lohan, Britney Spears and fill-in-the-blank," said Rick Ellington, managing editor of Sports Business Daily.
That is exactly it. That is the stark contrast. People are used to scandalous stories, pictures and actions by Lohan, Spears and others. It's a feeding frenzy. Tiger Woods has never been a part of it. And he's staying true now. Unless you're actually hiding something deep and dark, something that affects the public's interests and not just your own personal life, I believe that this strategy will win out, more often than not.
I don't think Mr. Woods' personal brand has been harmed at all, really. Sure, getting into a car accident is stressful and embarrassing, like it would be for anyone, but that's about it. He'll recover. If you get into a single car accident tomorrow, is your reputation damaged? Maybe you're insurance goes up, but let's not be overly dramatic here. If there is something going on in Woods' personal life or your personal life, that is his personal life – or yours. Confessional is at church – not a press conference.